ATvanced Branded Products
All ATvanced Care branded products can be controlled and monitored through a single app, simplifying usage and monitoring.
These devices use wireless connectivity to detect movement and send alerts or trigger automated actions in a connected smart home system.
A Wi-Fi door/window sensor is a device that connects to your home network to monitor the status of doors and windows, sending alerts when they are opened or closed.
These programmable light bulbs can be controlled remotely via a smartphone or voice commands, allowing you to adjust its brightness, color, and schedule.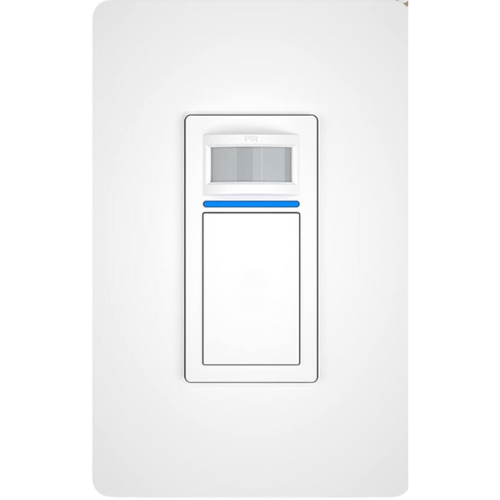 Smart light switches allow you to control your lights from anywhere using a smartphone app or voice commands. This offers increased accessibility, scheduling, and customization options.
A smart outlet enables you to control and monitor devices plugged into it remotely through a smartphone app. This allows for automations with the outlet, custom rules, and scheduling capabilities.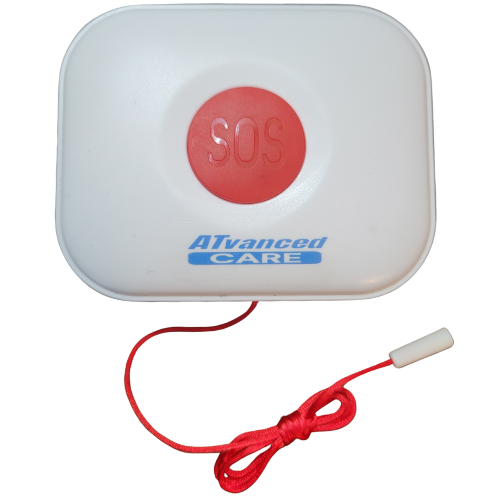 Our Emergency Buttons come in 2 different styles and can be worn as a pendant or mounted on the wall with an optional pull cord. With one press (or pull) it will send an alert to all assigned caregivers and family members within seconds. At that point they can easily connect to your smart hub, assess the situation, and take appropriate action.
These Wi-Fi connected smoke detectors monitor for the presence of smoke and carbon monoxide, sending instant alerts to your smartphone and allowing you to remotely manage and monitor your home's safety.
Non-wearable fall detectors can be mounted around the home to help detect falls. If a fall is detected, caregivers are notified instantly to help them provide timely assistance and ensure the safety of the individual.
This device is designed to assist individuals with their daily lives and communication, as well as allowing their caregivers to monitor their vitals. It continuously tracks vital signs, such as heart rate and blood pressure, and alerts caregivers if readings exceed predetermined parameters, ensuring prompt attention and care for the individual's well-being.
A video doorbell allows individuals to see and communicate with visitors at their front door from anywhere using a smartphone. Caregivers can also monitor the device and receive a notification when someone is at the door, they can then handle the visitor without disturbing the resident.
A WiFi-capable smart door lock enables individuals to securely control access to their home using a smartphone, scheduling, or voice-commands, granting peace of mind to caregivers and guardians. Different users can also be assigned unique access codes or even use their fingerprint to unlock the door. This allows them to enter the home without having to disturb the resident.
The ATvanced pill dispenser utilizes technology to help dispense medications at scheduled times, sending reminders to caregivers and tracking adherence. It promotes independence, ensures medication compliance, and provides peace of mind for both users and their guardians.
The ATvanced body scale measures and tracks various health metrics such as weight, body fat percentage, and BMI. It syncs wirelessly with the app to provide personalized insights, goal tracking, and progress monitoring for the individual and caregivers to view and track.
A bed shaker is a device that lays in the bed with the individual and vibrates to wake them up or notify them of something. It provides a gentle yet effective way to ensure they do not miss important alarms or notifications.
WiFi capable smart blinds are a convenient solution for individuals with physical impairments or limited mobility. With the ability to be controlled through a smartphone or voice commands, they offer enhanced accessibility and independence, allowing users to easily adjust their blinds without physical effort.
The ATvanced power outage detector alerts you instantly when a power outage occurs. With its wireless connectivity and easy setup, it provides peace of mind by notifying you of any disruptions in your power supply, allowing you to take necessary precautions or address any potential issues promptly.
The ATvanced leak detectors used with the ATvanced water shut off valve are a convenient and efficient system that helps protect the home from water damage. With its seamless connectivity and advanced leak-detection technology, it provides timely alerts and automatic shutoff to prevent potential disasters.
This device helps to improve indoor air quality by removing pollutants, allergens, and odors from the air, creating a fresher and healthier living environment.
A robot vacuum benefits individuals by reducing the need for manual cleaning, providing convenience, and promoting a cleaner living environment with minimal effort. This also reduces the fall risk associated with trying to bend over to clean up messes themselves.
The ATvanced multimode gateway helps keep all of the smart devices connected seamlessly. This half-dollar coin sized device allows for more advanced automations and integrations.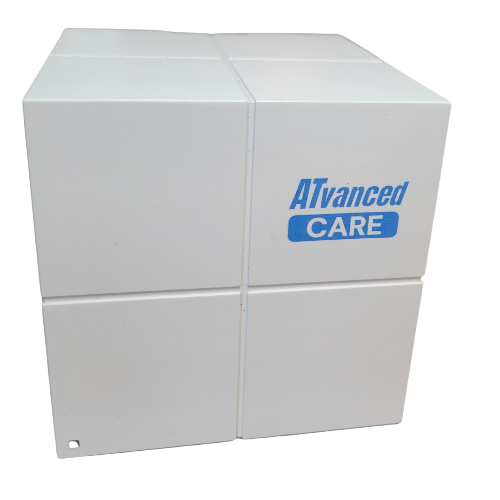 The ATvanced mesh router creates a seamless and reliable internet connection throughout a smart home. It benefits by eliminating dead spots, ensuring consistent connectivity for smart devices, and enabling smooth communication and control within the interconnected system.
Smart home products offer a solution for individuals facing challenges in pet ownership. These devices enable automated feeding, watering, cleaning, and access to the outdoors for pets. This helps to overcome limitations that would typically prevent pet ownership. They can make it possible to ensure pets are properly cared for, allowing everyone to experience the benefits of having a pet.
Automatic door openers offer hands-free entry and exit to the home or interior rooms. They are typically operated with a wireless fob or wall button. Our model also includes Wi-Fi connectivity for voice-command or app control.
An Alexa hub is a versatile smart device that connects to various smart home devices, allowing seamless control through voice commands and scheduling. It enables users to control lights, thermostats, locks, and even place a call with a simple voice-command. It also acts as a personal assistant with daily medication reminders, appointment reminders, and more.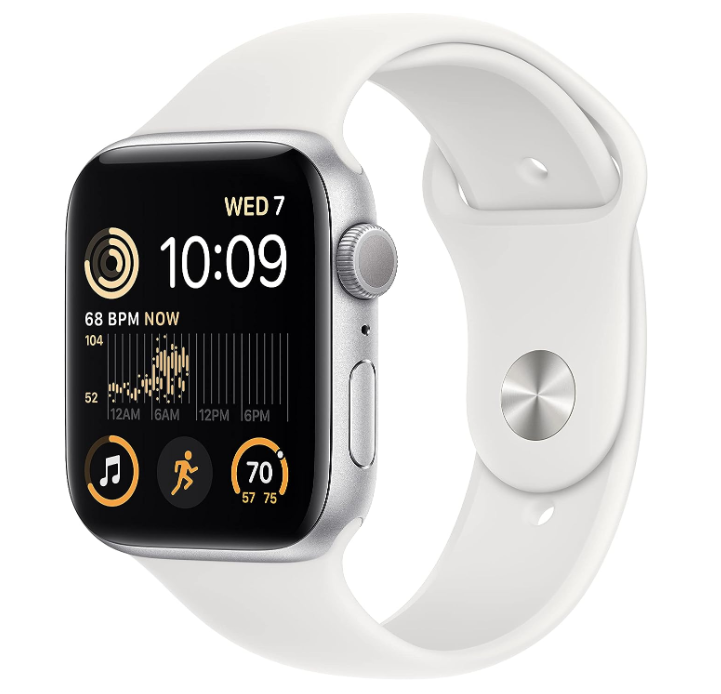 An Apple smartwatch is a stylish and innovative wearable device that offers a range of features. It tracks your fitness progress, monitors your heart rate, displays notifications, allows contactless payments, and even lets you control your music without having to take out your phone.


The Ring video doorbell is an incredibly helpful device for anyone, especially individuals with physical impairments or limited mobility. It allows them to see and communicate with visitors from the comfort of their home, providing increased safety and independence. Its features, such as motion detection and remote access through a smartphone, ensure that everyone can easily monitor and manage their front door regardless of their abilities.
The AltumView fall detector is an innovative, non-wearable device designed to provide safety and peace of mind. With its advanced motion sensing technology, it can detect falls and immediately send alerts to caregivers or emergency services, ensuring prompt assistance in critical situations.
The AngelSense GPS tracker is designed to ensure the safety of your loved ones. With real-time tracking, 2-way audio, geofencing capabilities, and alerts for unexpected movements, this device provides peace of mind guardians and caregivers, as well as the individual themself.
The Blink floodlight camera is a valuable tool for individuals seeking additional security and convenience. With its bright, motion-activated floodlights and built-in HD camera, it provides clear video footage of any activity around the home, ensuring safety and peace of mind.
A bed pressure sensor is an essential device for individuals who require monitoring and assistance. By detecting changes in pressure, it can alert caregivers to potential risks, such as falls or prolonged immobility, ensuring timely interventions and improved safety.
OME smart stove knobs are a huge safety improvement for any stove. They allows caregivers and guardians to remotely monitor the stove burner's status remotely from anywhere. Additionally, the guardian and/or individual will receive a notification if a burner is ever left on.
Enhance accessibility for individuals with the Nest thermostat. Its sleek design and voice command capabilities make climate control effortless. Caregivers can also set a PIN code to lock the thermostat, when needed. Upgrade to a smart thermostat and transform the way individuals & caregivers manage home climate.
Don't See the Device You're Looking For?
If you are looking for a specific device that is not currently listed on our webpage, please feel free to contact us directly via phone or email.
We are committed to meeting our customers' needs and will gladly look into providing the device for you if it is available.
Our knowledgeable team will work with you to explore all possible options and find the best solution to meet your requirements.
Your satisfaction is our priority, so don't hesitate to reach out to us.